Lift Lines
Joyce Szulc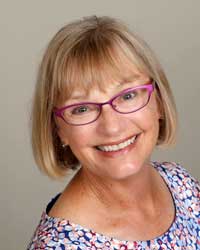 Tips for Signing up for a Ski Trip
• New this year: You can pay online with either a full payment or deposit. If making a deposit, the additional installments can also be made online. And you can purchase your lift tickets online as well.
• Registering online with your credit card is the club's preferred method of sign-up and payment.
• Benefits to you include no event coupon to fill out, no stamps or envelope, no check to write and no trip to the post office. In addition, you receive your credit card's perks and you can determine your payment plan.
• If you do sign up online, you must pay with your credit card. Registering online without paying by credit card online does NOT reserve your spot.
• If you pay in person with your credit card or check, you must complete an event coupon.
• If paying by check, please make your check payable to Vagabond Ski & Social Club or VSSC. Do not make the check payable to the event leader. And please doublecheck the dollar amount.
• If signing up as a couple, you may use one event coupon for each trip.
• Please include your name exactly as it appears on the ID that you will use at the airport. We also need your date of birth and roommate. Passport information is required for overseas trips.
• Any questions? Please contact your trip leader or Joyce Szulc.
---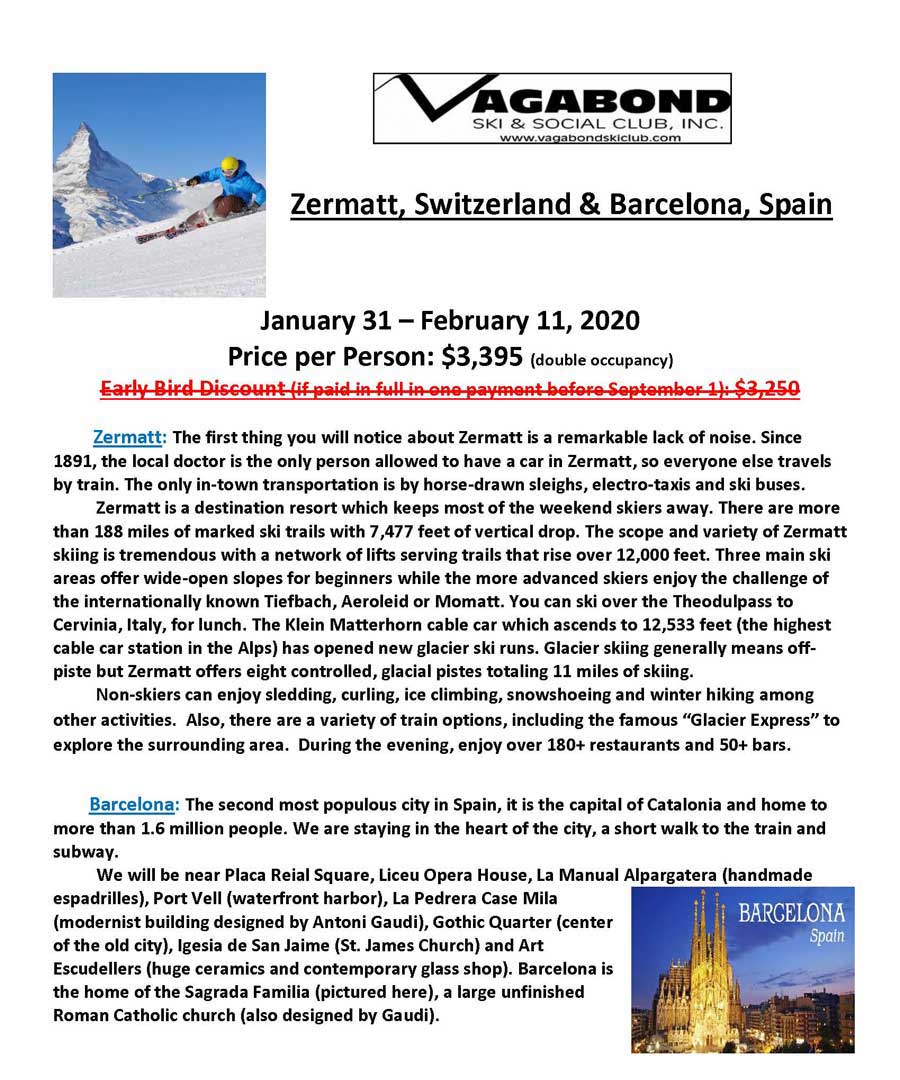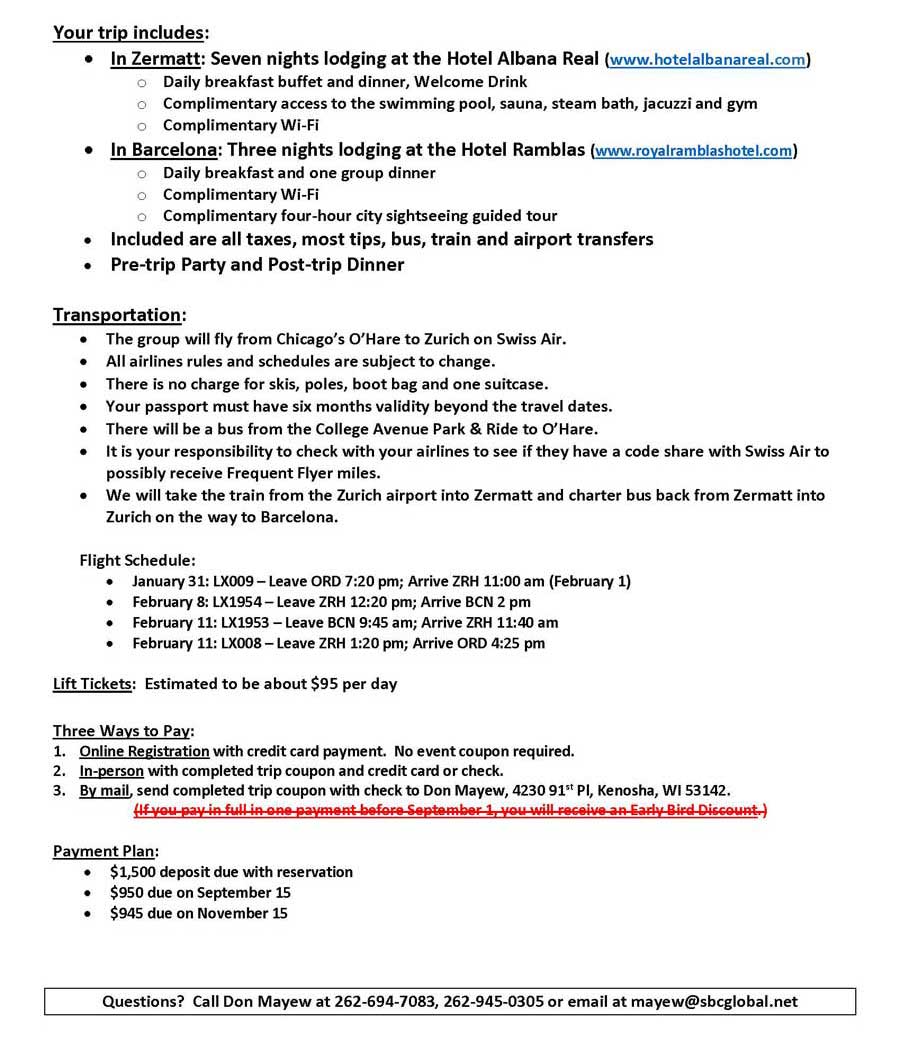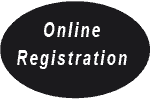 Zermott/Barcelona Ski Trip Event Coupon Here >>
---
Western Ski Trips Event Coupon Here >>
---
Western Ski Trips Event Coupon Here >>
---
Weekend Bus Ski Trip – Big Snow Resort, Wakefield, MI
February 21-23, 2020
$355 per person (double occupancy)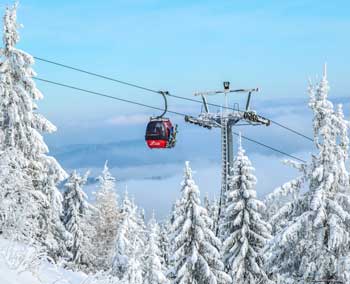 We are teaming up with the Milwaukee Sitzmark Ski Club for a joint weekend bus trip to Big Snow in 2020! Enjoy two mountains for the price of one. Join us for a weekend of skiing at Indianhead Mountain and Blackjack Mountain with 56 trails, 15 lifts and over 400 skiable acres. Complimentary shuttle bus every half hour so you can enjoy both hills. This is a great trip for all skiers, including those who may have not skied in a while or even for someone who has not skied before. Check out their website: www.bigsnow.com.
Your weekend includes round-trip bus transportation, driver tips, box lunch and beverages on the bus ride up, two-nights lodging, two-day Indianhead/Blackjack lift ticket, two breakfast buffets, Saturday evening cocktail party and buffet dinner, all taxes and gratuities. Also included is use of the health and racquet club with pool, sauna and whirlpool.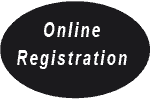 You can add ski rentals ($27/day or $46/2-day) and group ski lessons ($22/person), if you wish. NASTAR racing is available daily at 12 noon for a $7 per person fee.
Bus leaves from Goerke's Corners Park & Ride (N. Barker Rd & I-94) at 2 pm on Friday afternoon and will return on Sunday evening. This event is open to guests as well as Vagabond members. Event closes Friday, January 17.
Questions? Contact Trip Leader Joyce Szulc at 262-886-9328 or jszulc@wi.rr. com.
(Please note that trip participants are not eligible for the 2020 post-trip ski dinner.)
---
Tips on Maintaining your Ski Bindings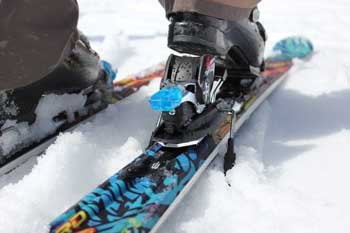 Your ski bindings maintenance plan should begin at the start of the season. Bring your bindings to a well-respected ski shop and have them checked for common defects which include broken parts and loose screws. Your bindings can be damaged during transport.
• Bindings cannot be tuned and are maintenance free. They can only be adjusted for release settings and inspected/tested.
• Keep the AFD (anti-friction device) clean and replace it immediately if it gets damaged.
• Do not attempt to wash out your bindings at the end of the season as this can remove the factory lube. Only a certified technician should work on bindings.
• Store your skis in a warm, dry place in the off-season.
---
Staying Fit for Skiing During the Offseason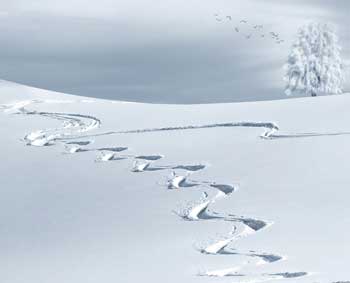 For any avid skier, the primary benefit of staying fit during the offseason comes in being able to spend full days on the mountain as early in the season as possible. Here's a suggestion of one way to stay in "ski" shape while waiting for the lifts to start operating again.
Skiing is the culmination of many different elements, including weather, equipment and, of course, physical ability. Powerful legs and a strong abdomen are key to putting in a full day on the slopes and wrapping up the day with essentially the same amount of energy as you had when it started.
Riding a bike during the offseason is an excellent way to keep these muscles toned, limber and strong. Fortunately, for Vagabond skiers, we offer a weekly bike ride to help you keep in shape during the summer months. Check out the weekly bike schedule and be sure to join in!
---
The Vagabond Ski & Social Club is associated with the following organizations which promote skiing and snowboarding:
* Chicago Metropolitan Ski Council (CMSC), www.skicms.org
* National Ski Council Federation, www.skifederation.org
* Milwaukee Metropolitan Ski Council (MMSC), www.skimilwaukee.org
Visit their websites to learn more about these groups.
---
We are always looking for great photos of our members enjoying activities and you are our best source! Send your high resolution (largest) photos to Jeff White at ejwhite8942@yahoo.com so they can be uploaded to the website and used in the Life when we have space.
Also send your photos to Joyce Szulc, jszulc@wi.rr.com, to post on the Vag Facebook page.