TENNIS & PICKLEBALL
Linda Horn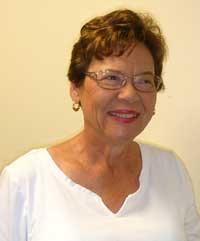 Open Tennis
Vagabonds meet and play tennis on Monday evenings from 6 to 8 pm at Elm Grove Village Park until Monday Night Tennis starts, and on Saturday mornings from 9 am to Noon at Nathan Hale High School. There is no cost – just show up. Players should try to get on a court with players of similar ability. Both are subject to the weather conditions. Questions? Call Ron Sonntag at 414- 788-4907.
---
Tennis Drill Group, Wednesdays 9 – 10 am, May 2 – July 25
Burleigh Elementary School Tennis Courts, 1185 Burleigh Pl., Brookfield (located on Burleigh Place, between Pilgrim Rd. and Calhoun Rd)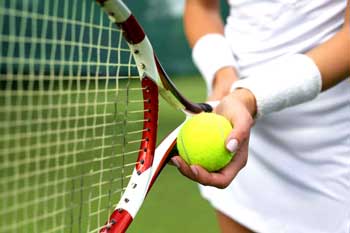 This is for players who know the basics of playing tennis and seriously want to improve, or for intermediate players who want to sharpen their game. You need to be a willing, cooperative practice partner alternating between ball feed and ball hitting.
Drills will be introduced by a facilitator along with competitive fun practice games designed to repetitively hit the same practice shot.
Gene O'Kelly, one of our Vagabond members, who has coached tennis in various area schools, as well as having coached a number of individuals, will provide instruction and tips for hitting effective tennis shots.
A ball machine will be used at times. Lots of practice balls are available for more repetitions and less ball chasing. After the drill, you are welcome to stay and play a practice set with others from the drill group.
Planned drills include: Serves, Forehand, Backhand, Volley, Drop shots, Lobs, Footwork, Overheads, and much more. Contact Gene for a schedule. This is an open drill – no sign up required. Come when you want to come!
Cost: One time $3.00 fee to help pay for tennis balls. Questions? Call Gene O'Kelly at 414-526-2719 or email eugeneokelly12@gmail.com.
---
Vagabond Beginners' Tennis!
Mondays, June 4 – August 20, 6:00 – 8:00 pm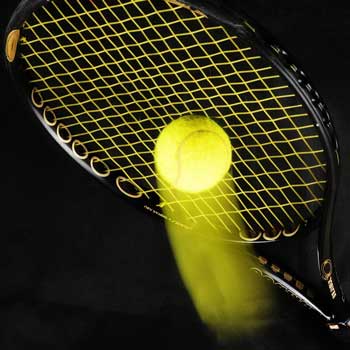 Burleigh Elementary School Tennis Courts 16185 Burleigh Pl., Brookfield (located on Burleigh Place, between Pilgrim Rd. and Calhoun Rd.)
Never played tennis before, but would like to learn? Or, have you played before but it's been so long ago that you need a thorough review before entering league play? Then come join us this summer for Beginners' Tennis. Not sure if the beginners' group or the league is best for you? Attend the May 7 tennis refresher and Dave Nicholson will help you decide. Find the details about the FREE Tennis Refresher in the article just prior to this one.
Beginners' Tennis - Our Vagabond instructors will teach you the basics of playing tennis. You will learn about tennis strokes, serving, tennis rules, 7 scoring and court etiquette plus a whole lot more. Each night you will learn the elements of tennis and then have time to practice what has been taught. PLUS, each Monday evening after the lesson you are invited to join all of the other Vagabond Summer League tennis players at Alioto's Restaurant in Wauwatosa for a buffet supper, including soda, beer and wine. Tennis lessons, including supper afterward – all for the price of only $99 for the whole summer! What a great opportunity to learn the great game of tennis, get some exercise and enjoy a meal, including beverages (beer, wine and soda), with fellow Vagabonds.
Countless tennis players in our Vagabond Summer Tennis League have started right here in Beginners' Tennis and then moved on into regular league play. Give it a try. You won't believe how much fun it is!
Please use the Vagabond Summer Tennis League Registration form to register for the Beginners' Group. Mail the completed application and check for $99 to Linda Horn, 2311 Emslie Dr., Waukesha, WI 53188. Or, you can pay with your credit card at one of the Vagabond meetings.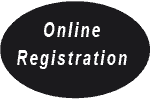 AVAILABLE FOR ONLINE REGISTRATION AND PAYMENT
Sign up by selecting this button >>
Questions? Call Dave Nicholson at 262-782-0599.
---
Summer Tennis League – Mondays, June 4 – August 20, 6 – 8 pm
Supper at Alioto's: Starts 7:15 pm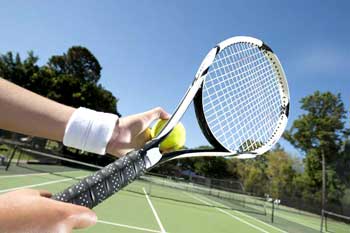 Registration for the Summer Tennis League closed on May 12th, but there is still plenty of room for substitute tennis players and for social members as well.
The cost for either a substitute or social member is $75. The $75 entitles substitutes to play tennis when called and to join on each of the 11 Monday evenings at Alioto's for supper and beverages, including beer, wine and soda.
Social participants are also entitled to enjoy the food and beverages every Monday evening beginning at 7:15 pm. What a deal - food and beverages for only $6.80! The price probably beats most fast food places, and you can't get a beer or a glass of wine there, either.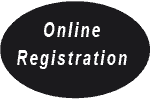 Sign up using the Summer Tennis League Registration form in the May Life or register online. You may also sign up either as a substitute player or a social participant online by going to the Vagabond website, logging in to the Members Section, and selecting "Summer Monday Night Tennis League" from the list of events.
---
Pickleball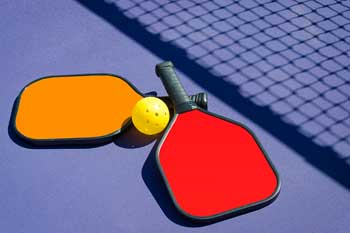 Vagabonds play pickleball at several locations in the Milwaukee area. The Wisconsin Pickleball website at www. Pickleballwi.com/ play lists places to play pickleball all over Wisconsin. There you will find the information alphabetized by city and it will show where pickleball is played.
Many of our Vagabonds play at Juneau High School in Milwaukee, at Melinda Weaver Park in Sussex, and at the Rite Hite Family YMCA Brown Deer.
---
PTball (Progressive Tennis)
Using 50% compression tennis balls and 21" tennis rackets, PTBall combines elements of tennis & pickleball. It is like tennis, but played on pickleball courts. It's fun, easy to learn and a great workout.
The summer outdoor sessions began on May 1 at the brand new courts at Banting Park (2101 Butler Drive) in Waukesha. These courts have permanent nets and are lined specifically for PTball or pickleball.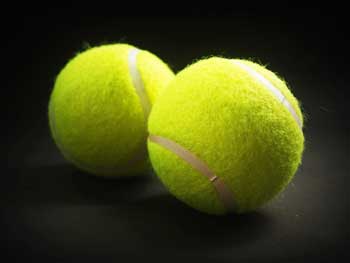 Waukesha Park, Rec & Forestry (WPRF) has given us three PTball time slots: Tue & Thur 9:30 -11:30 am and Sunday nights 6:30-8:30 (yes, there are lights). Outdoor sessions are "weather permitting" which means 60 degrees or warmer and no rain (overnight puddles can be swept with brooms or squeegees).
Rackets and instruction will be available for beginners on Tues and Thur. For beginners their first time is free. Registration forms are available on the WPRF website at http://www.waukesha-wi.gov/462/Activity-Guides. The information about PTball is on page 39 of the activity guide. PTball is open to everyone so invite a friend. The sessions run from May 1 through September 27. Cost for the Tuesday and Thursday morning sessions is $10 for residents and $15 for non-residents. This is a one-time cost for the entire session (5/1 – 9/27). Cost for the Sunday (advanced players) session is $5 for Residents and $8 for non-residents. See you there!