Racquet Sports
Linda Horn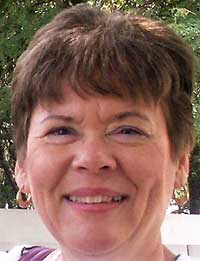 Payment Options for All Events (unless otherwise noted):
1. Online Registration with Credit Card payment;
2. In person with completed Event Coupon and credit card or check;
3. By mail, send completed Event Coupon with check to Event Leader.
---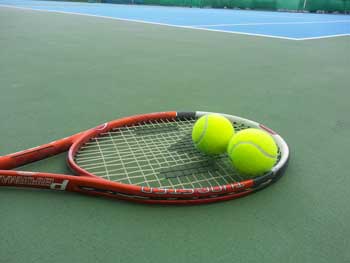 Drop–In Tennis
Vagabonds meet and play tennis at 10 a.m. Saturdays at Nathan Hale High School and at 6 p.m. Mondays (until league play begins in June) at Elm Grove Village Park. Weather permitting, of course.
No fee, and no sign up necessary. Just show up and get on a court with others at your ability level. Coordinator: Diane Schmitt, (414) 690-4689
---
EVENT COUPONS HERE

>>
---
SUMMER TENNIS LEAGUE, June 6–Aug. 22 • 6–7:30 pm
(Every Monday except July 4)
Elm Grove, Brookfield East, Brookfield Central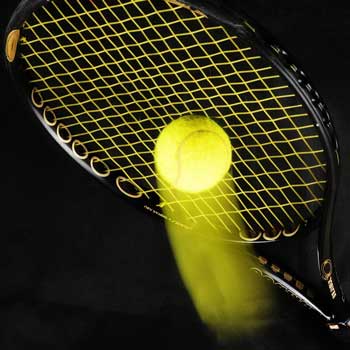 hurry! Registration deadline: May 9
Come and join other enthusiastic individuals for a game of tennis on Monday nights. The tennis league is for all skill levels, from beginners to accomplished players. The matches are social, mixed doubles, with teams paired up according to ratings. Plan to get out and play, enjoy some exercise and have some fun.
Note: The club will not be organizing an after-tennis social event this year. We are looking for an indoor/outdoor venue in the Brookfield area where players can gather for beverages, food and social time. If you have any suggestions, contact Cheryl Jaeger at (262) 510-9676 or cheryljaeger@wi.rr.com or Diana Schneider at (414) 491-2217 or bschneider95@wi.rr.com. The fee is $15 to play tennis for the entire season. You may sign up as a substitute player instead for $10. The same court locations have been reserved as last year: Elm Grove, Brookfield East and Brookfield Central.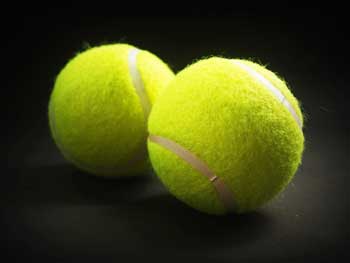 If you are a beginner tennis player and would like lessons, call Bill Gaertner at (414) 750-1316.
TO SIGN UP:
• Online registration to pay by credit card.
• Download and print the registration form, then mail it with your check.
• Contact cheryljaeger@wi.rr.com to request a registration form by email.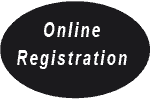 • Send a self-addressed, stamped envelope to Diana Schneider, S75 W20101 Ridge Road, Muskego 53150, for a registration form by mail.
Event organizers: Cheryl Jaeger, (262) 510-9676, and Diana Schneider, (414) 491-2217.
---
Beginner Tennis
Bill Gaertner will teach beginner tennis lessons again this year. Sign up online or reach out to Bill at (414) 750-1316 for more information.
---
GENE'S TENNIS DRILLS
Wednesdays, May 18 –July 6 • 10 am
$10 for the entire summer
Elm Grove Village Park
Gene O'Kelly will again coordinate tennis drills for those who want to sharpen and improve their skills. Tips, basics and reminders will be provided on stroke mechanics, game strategies and court positioning. A ball machine will be used on some drills. Lots of balls will be available to maximize the hitting opportunities.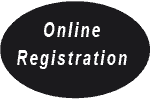 You just need to be a willing practice partner for parts of the drills. We may be able to facilitate drills by skill level. This year, we will move to the Elm Grove courts due to overcrowding at the previous site. Wednesday mornings at 10 a.m., May 18 to July 6 with an optional fun tournament at the end.
Sign up online or in person.
---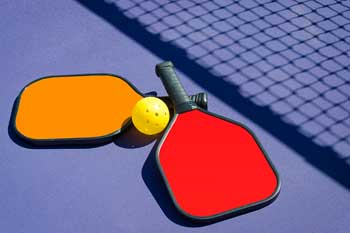 Summer Pickleball Thursdays,
June 2–Aug. 18 • 6–7:30pm
$25 for the entire 12–week season
Banting Park, Waukesha
Join the Vagabond Summer Pickleball league. All levels welcome, including beginners who need lessons. After pickleball, we will adjourn to a nearby location for food and drinks (not included in fee) and socializing, as we Vagabonds like to do!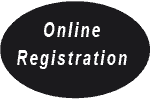 Online sign-up preferred. Event coordinator: Pat Hummer, (262) 894-3375.
---
PTball Party – June 18 • 4–8 pm
Banting Park, 2101 Butler Drive, Waukesha
Join us for another fun PTball Party! PTball is played on a pickleball court using 21-inch rackets and low-compression tennis balls. The sport is fast-paced and easy to learn. It's a fun sport that is for everyone, whether you are a current or former tennis/pickleball player or have never played a racket sport before. Many of our Vagabond members play regularly. Instruction and equipment will be provided for beginners.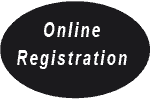 Check in at 4 p.m. Saturday, June 18, at Banting Park in Waukesha. Play from 4:30 to 6:30 p.m., then enjoy a picnic social afterward. Please bring your own beverage and lawn chair. Fee: $15 per person. Event Coordinator: Bonnie Ilhardt, (262) 366-4554.
---
Pregame and postgame str-r-r-etching
Exercise is known to cause muscle-shortening. Regularly stretching with proper techniques can offset this process. Promoting flexibility will help you move your muscles and joints more easily through their full range of motion. Here are diagrams to guide you through a series of 22 stretches that can be completed in 12 minutes.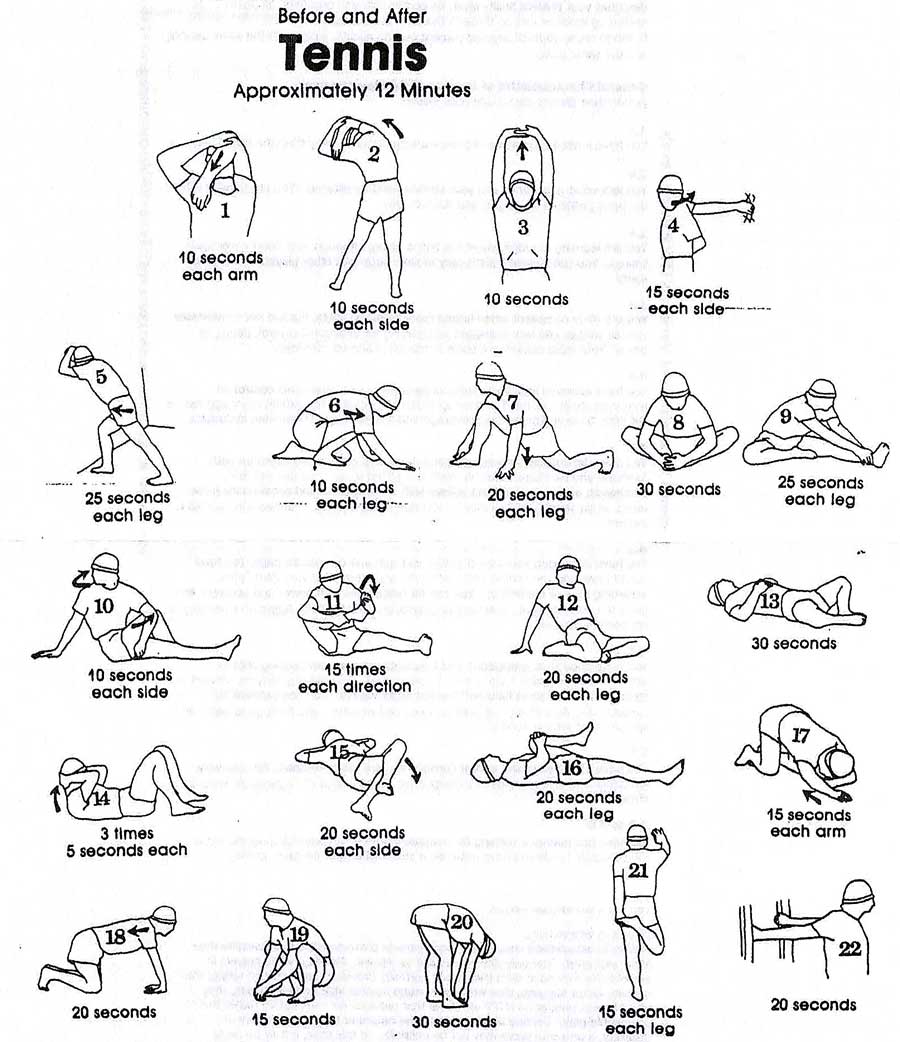 ---
EVENT COUPONS HERE

>>